2012-01-04
Daniel Simpson (Dandadude from kong) sent us this review in of Cyclomaniacs 2 and asked if we could add it to the site. If anyone else wants to review one of our games (either good or bad) please use the contact form.
What is Cyclomaniacs?
This is the game that I was waiting for as I especially remember spending about a week of internet game time playing Cyclomaniacs 1. Cyclomaniacs is a 2D bike racing game that has stereotypical basic game play features and physics but on a much grander scale, incorporating things like different characters and a unique boost system that is the basis of some tasks. I enjoyed the first game in the now, two-part series purely, because Turbonuke, RobotJam and LongAnimals turned the idea for these basic small games that you find on any flash games site, into something much better and wholly a more enjoyable flash gaming experience. The small flash games usually would have at maximum twenty levels; I generally don't find these games much of an enjoyable experience, because the only task is to get to the end of a level. There is nothing you can do if you can't finish the level besides give up.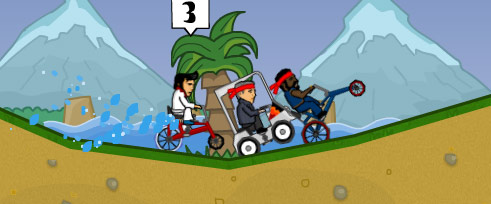 In the Cyclo games this major problem, which can make you lose all interest in the game is combated by giving multiple objectives per level. If an objective is completed and under the circumstances stated, you unlock new content. The content comes in the forms of new riders or levels. The names of rider and level are stated in the objective. Upgrades for all bikes can be purchased from the upgrades store. A HUGE problem I found with the upgrades store with the first game was that the store was placed in the area in which you are near to starting a level. This problem was well addressed in Cyclomaniacs 2 by involving an upgrades room.
What I loved
From the start sequences to the last few levels, there are always many things I enjoy about the game, right from the beginning the game tells a silly yet funny prologue about the theme park in which the game is set, "Ninja World". You can find out about the wacky storylines when you play the game, I strongly suggest, not skipping the opening movie as you won't understand a few of the settings or characters. The characters in the game include, include the classics from the fist game, references to other games by, TurboNuke, RobotJam and LongAnimals, themed characters and Characters based on certain famous people.
There are many more characters in cyclo 2 and each one is more unique in terms of artwork and general level performance, it is easy to find a favourite Character, my personal favourite characters are: "8ball", because I play pool frequently and I like the theme, and "The Mayor" who to me performs very well. Characters can be unlocked throughout the standard levels and through fun mini games or side tasks, these games are dotted around the menu in the form of "the cycle king"s trailer.
The trailer used as a form of menu as a big step up in the ease of navigation and presentation. Simple point and click puzzles are needed to unlock the mini games. Having the mini games is a BRILLIANT feature as it gives you something to do when not completing the standard levels. The cycle king's trailer acts as a substitute to a regular game menu. It gives a more fun and original approach to navigation mixed with fun little Easter eggs, examples being an unstable barrel of nuclear material and a button that changes the hairstyle of the king.
The creativity that the developers used was just amazing compared the previous game offering tracks based on real life environments such as deserts, mountains and space(if that counts) but cyclo 2 offers some amazingly thought of tracks, such as a track where you appear to be shrunken down on a picnic! This really makes me smile as it kind of reminded me of Mario 64's tiny huge world! The amazing art also takes you on a ride through a whale, which eats the strangest of things… Due to new ability in design, courses that defy gravity have become available, making the game really destroy its competition!
There are small Easter eggs in the game in which the artwork from other games by the same developers for example the ends of the pipes I saw in the factory level I also saw the game "Basketballs". This to most people won't seem like much to me it's kind of a signature, a hidden signature by the developers. Also a complete level based purely on another game by the developers was to me very interesting.
A great point of user friendliness is the crashes, when you crashed in the first game there was long crash animation that would last about one and a half seconds, it doesn't sound bad now but was INCREDIBLY frustrating, but now the crash sequence is that you respawn immediately, which is so helpful.
What I didn't like and suggested improvements
There are a number of bad points that I found annoying with this game, my major point is that in standard game play, whilst doing tricks you are not punished for crashing, for example in levels that require a certain accumulated time of inverted air, if you deliberately crash the character upside down, the time still counts towards then end total. This is quite a bad feature as I feel that I am being rewarded for poor performance in the game. A similar problem I had was when you crashed with boost, sometimes you would still have some boost when you respawn I don't know if it's a technical glitch, or a coding error but this shouldn't happen. I would also recommend a trick system in which the stunt meter is added to only if a safe landing is achieved!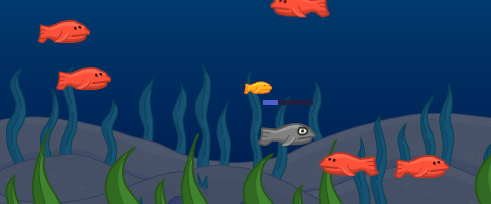 Most of the mini games give a suitable challenge to complete but one in particular about a flying anchovy destroying floating pizzas in an asteroids rip off was extremely difficult for me, I have got scores painfully close to the needed score to unlock the new rider but it's just too difficult for me!
The fact that you get so many riders is a good feature but there are so many and I easily pick favourites so I wish there were more ways in the player was forced to play as nearly EVERY rider unlocked. There are missions in levels that require you to play as a certain character, more of these would make the game better.
The music was good but hearing the same few tracks over and over was pretty boring, perhaps specific music for specific levels or a customizable sound track can be included in the future.
The future of Cyclo
Cyclo has taken a huge step up tech, pure creativity and scale. I don't know what the future holds for this game if there is a sequel, I just hope that it can contain everything that made this one good. Maybe possibly levels thought of or designed by fans? I don't know exactly what is going to happen but I don't want the game series to die.
I'd give this game a 9 out of 10 or in other words close to perfection but If those problems I stated were addressed then would be a straight 10.